----
The US Cities with the Biggest Housing Bubbles
//
Silver For The People
wolfstreet.com / by Wolf Richter /
But red-hot Seattle has first back-to-back declines since 2014!
The S&P CoreLogic Case-Shiller National Home Price Index for October, released this morning, jumped 6.2% year-over-year (not-seasonally-adjusted), up from 6.1% in September. The index has now surpassed by 6.0% the crazy peak in July 2006 of Housing Bubble 1 and is up 46% from the trough of Housing Bust 1: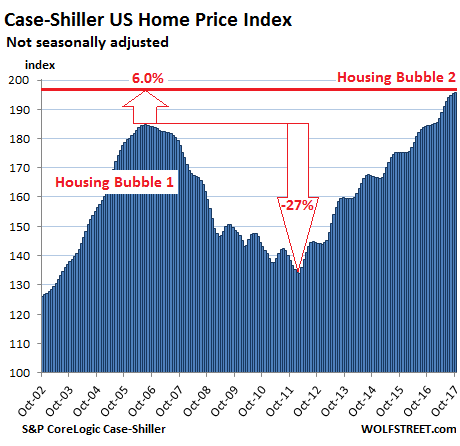 Real estate prices are subject to local dynamics but are impacted by national and even global factors, such as the consequences of monetary policies, particularly in places where this liquidity washes ashore. This creates local housing bubbles. And they operate each on their schedules. When enough of these local bubbles occur simultaneously, it becomes a national housing bubble as depicted by the chart above.
The post The US Cities with the Biggest Housing Bubbles appeared first on Silver For The People.
----
Read in
my feedly
Inviato da iPhone